IIM Calcutta opened up a new vista of inspiration for me during my recent visit to the institute on the occasion of the Headstart Startup Saturday meet for September 2013. It reinforced my belief that constant innovation is the key to a better tomorrow!
The moment I stepped into the IIMC premises, the atmosphere stirred me positively. Furthermore, the interaction with students amazed me to no end. The original thinking and progressive outlook of the young brigade truly deserves to be applauded. Their fervor to make a difference to the society through entrepreneurship made me extremely hopeful about the future of the nation as well as the world. Even though I do not belong to an educational institution anymore, the energy and exuberance with which the IIMC students participated in exchange of ideas, taught me a valuable lesson or two which I would dearly cherish.
The meet showcased the activities of IIMeCell, an IIMCventure. A few more presentations on out of the box ideas followed that were congratulated by the crowd. One of the principal legs of the meeting was a panel discussion on entrepreneurship which was eagerly awaited by everyone present. It was a real pleasure to be one of the six distinguished speakers who spoke effectively on diverse issues ranging from personal anecdotes to business ideas. Some of the speakers shared their views on the changing business patterns, ground-breaking ways of dealing with problems and overcoming them too, and the power of inventive thinking. They emphasized on the need of implementation of new ideas and innovation. It was amazing to observe and interact with the speakers and audience.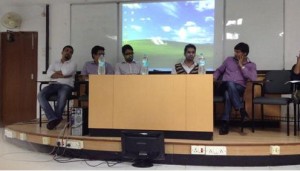 It was very encouraging as my views on Re-commerce was accepted in a positive light by the audience. They especially congratulated me on the concept of Budli, which was considered to be a path-breaking effort in the true sense of the term. Budli, meaning 'exchange' in Hindi, was started as India's first instant online re-commerce portal that has made gadget selling for its users quick, safe, convenient and simple. Besides the popularity of Budli, the audience remained involved throughout the discussion, always eager to know more as well as adding useful inputs. And with all the important feedback, my trip to IIMC proved to be a really motivating one.